Phuket and Koh Samui are well known island resorts in Thailand. And for a beach resort, most people know about Pattaya.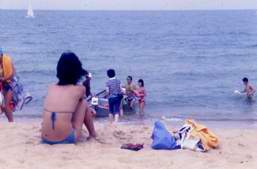 CHA-AM AND HUA HIN HAVE MILES OF EMPTY BEACHES
However, there's another resort area close to Bangkok that is very popular among Thai and is gaining recognition among foreign visitors. It is known as Cha-am and Hua Hin.
While the beaches of Phuket and Samui were discovered only recently and have since undergone rapid over development, Hua Hin has been the favourite Thai resort for over seventy years. This alternative was discovered in the early 1920s by King Rama VII as an ideal getaway from the sultry metropolis of Bangkok. The tranquil fishing village was turned into the Royal resort and consequently became popular among Siam's nobility and upper-class. The construction of a railway line from Bangkok ensured its accessibility and popularity with a wider part of the Thai public.
Hua Hin continued to develop in its own leisurely way, both as an aristocratic resort with the added attraction of an 18-hole golf course, and as a fishing port.
Cha-Am Google Map with Shops - Restaurant - Bank -
and other things
Cha-am is a younger version of Hua Hin, a leisurely family weekend resort, which has maintained its unique identity. During the week it's all peace and quiet, the ideal place to get away. Thai people come to the beach for their picnics, swimming and to just relax.
Cha-Am lies on the premier beach resort of Petchaburi on the sunrise side of the Gulf of Thailand, 163 km south of Bangkok. The landscape here is characterized by dense jungles and mountain ranges. A leisurely drive from Bangkok takes about 2.5 hours.

Once a fishing village, Cha-Am offers a laidback pace of life, and a more tranquil atmosphere than neighboring Hua Hin beach. Its main appeal is its clean, white sand beach, which is thought to be the longest in Thailand, and which is where you will find a choice of excellent seafood restaurants.

When it comes to activities, there is much variety, from champagne picnics on the beach to energetic pursuits such as water sports and cycling. Take a tour of the ancient temples and pagodas that dot the surrounding area. Or pay a visit to the summer palace of King Rama VI (Marukhathaiyawan Palace) less than 10 km south of Cha-Am.
The hotel is also conveniently close to the Springfield Country Club, the Palm Hills Golf Resort and Cha-Am Forest Park.

On the weekends and public holidays both Cha-am and Hua Hin come alive as the Thai people enjoy themselves, dancing and singing on the beach.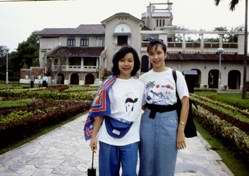 POSING FOR A PHOTO IN FRONT OF THE KING'S SUMMER PALCE

Over the past few years many tourists have discovered these two resorts that remain relatively unspoiled. Hua Hin is twenty-five Km to the south of Cha-am, with many western restaurants and more of a city atmosphere than Cha-am.
The two resorts offer miles of very clean sandy beaches, which are protected by tall trees that help keep the hot midday sun at bay. The swimming is ideal for children in the safe shallow waters on the Gulf of Thailand seashore.
In and around the towns there is plenty to see and do Temples, caves with Buddha images, national parks, waterfalls, and the Kings Palace are a few sites to take in. Both towns have local markets that are open daily from 6am to 11pm where one can obtain all the local Thai fruits.
In Hua Hin, the Klai Kangwon (Far From Worries) Palace is still frequently used by members of the royal family and is open to the public for visits. It was built in 1928, by King Rama VII and remains until today an official royal residence.
Keang Krachan National park, only 51 km. from Cha-am and 70 km. from Hua Hin, is the largest national park in Thailand. It extends along the Myanmar border and is located in the upper riches of the Phetchaburi River. It has many species of wildlife including elephant, tiger, clouded leopard, Malayan sun bear, Asiatic black bear, barking deer and lesser mouse deer, tapir, the armoured Malayan pangolin, and several other species. There are a few restaurants and guesthouses where you can stay for a few days or for a day trip.


Cha-am and Hua Hin on the Bay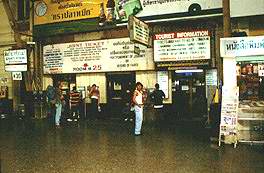 BANGKOK TRAIN STATION
If you like sports, there's swimming, snorkeling, scuba diving, cycling, horseback riding, jogging tracks, and all the major hotels have fitness rooms available for hotel guests and at a very small charge for the use of the facilities if you are not a guest.
Maybe you'd like to go out for the day aboard an authentic wooden Thai fishing boat. While there is no toilet, no berth, and absolute no luxury, this adventure is only for those who dare. It would be an experience you'd never forget, however.
Thailand is well known for its golf courses and these resorts have some of the best in the surrounding area. Designed by some of the world's top golfers, they offer a challenge even for the pros. Along its five-mile stretch of beach, Hua Hin provides the highest density of world-class golf courses anywhere in Thailand, and yet it's virtually undiscovered as an international Golf destination. Green-fees and other costs are currently among the lowest in the world while course maintenance and services are superb.
Location is the biggest drawing card for both resorts, and transportation to the area is available by train, bus and air.
From the Southern Bus Terminal in Thonburi, Bangkok (across the Pin Klao Bridge from Banglamphoo), buses depart for the 3.5 hour trip every hour. About 130-190 baht for aircon coach. Bus from Phetburi is 30 baht. Buses back to Bangkok leave every hour from 5 AM to midnight.

Cha-am and Hua Hin on the Bay